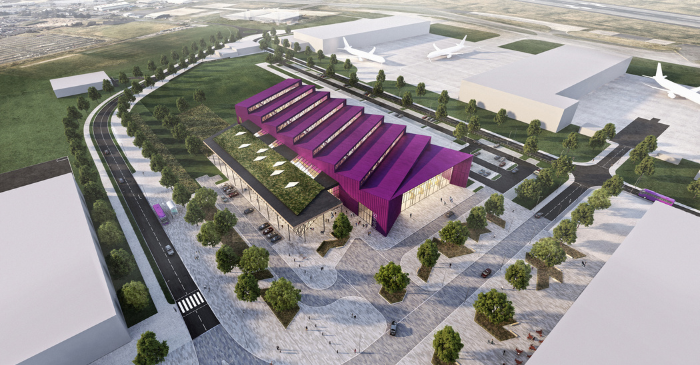 The National Manufacturing Institute Scotland (NMIS), one of the UK's fastest growing manufacturing research and development organisations, is today welcoming its first group of official members from around the global manufacturing, engineering and technology sectors.
The NMIS Group, based at the heart of the Advanced Manufacturing Innovation District Scotland (AMIDS) in Renfrewshire has attracted investment, commitment and support from US tech trailblazer, Infor; energy technology company Baker Hughes along with seven other major manufacturing related firms: Fanuc, ATS Global, Sandvik, Skyreal, Hybrid Manufacturing Technologies, Beckhoff and Nikken.
The companies are the first to sign-up to the NMIS membership programme which will see them work together to innovate, access world leading expertise and technical capability and form a supportive network to ultimately tackle the global manufacturing challenges of tomorrow.
Welcoming the commitment shown by the companies, National Manufacturing Institute Scotland's Chief Commercial Officer, Dr Lynne O'Hare said:
It is great news for Scottish manufacturing and the wider UK sector that the National Manufacturing Institute Scotland can attract companies of this calibre as industrial members.

"At the heart of the National Manufacturing Institute Scotland is a growing community of like-minded people and companies all seeking to work with each other, and our engineers and researchers, to solve problems, turn ideas into a reality and put Scotland and the wider UK at the forefront of the digital manufacturing revolution helping to make our companies globally innovative and competitive.
Infor, a global leader in business cloud software, is investing in the NMIS Digital Factory to help accelerate the adoption of smart technologies to drive step-change improvements in UK productivity, digital skills and sustainability.
The partnership with NMIS will bring the global manufacturing experience of Infor, along with its cutting edge data-driven solutions, to enable UK companies – from OEMs to smaller supply chain companies – to maintain their competitive edge through the adoption of smart technologies.
Kevin Samuelson, Infor Chief Executive Officer, said that its membership of NMIS will bring about the development of model digital factory demonstrators that showcase end-to-end manufacturing use cases in the new NMIS Digital Factory, integrating the facility's IT backbone and the digital and automation cells.
As with our sponsorship of The Smart Factory in the USA, Infor's long-term partnership agreement with National Manufacturing Institute Scotland demonstrates our commitment to delivering high-value capabilities to the manufacturing sector, and we're looking forward to showcasing the many benefits that smarter manufacturing can bring to industries here in Scotland and the wider world," Kevin added.
Also speaking about joining NMIS, Principal Engineer at Baker Hughes, Mario Murcia Castro, said:
This is a really exciting time for us to be joining NMIS, which has an unrivalled depth of knowledge in energy and manufacturing research and development. It builds on our existing relationships with researchers in the group who are at the forefront of helping industry make the transition to a cleaner, greener energy economy.

"Manufacturing innovation has vital role to play in turning net-zero into a reality, and being part of the NMIS collaborative community gives us access to not only the latest in advanced manufacturing tools and processes, but also to some of the world's best brains in manufacturing R&D.
Operated by the University of Strathclyde, supported by Scottish Government and its enterprise agencies and part of the UK's High Value Manufacturing Catapult network, the fast-growing NMIS Group close to Glasgow airport brings together industry, government and research to revolutionise skills, productivity and innovation to help attract inward investment and make Scotland and the wider UK a global leader in advanced manufacturing.
Speaking ahead of the Scottish Manufacturing and Supply Chain Expo, taking place at Glasgow's SEC today, Minister for Business, Trade, Tourism and Enterprise Ivan McKee said:
With its cutting-edge facilities to promote advanced manufacturing capability, The National Manufacturing Institute Scotland (NMIS) lies at the very heart of Scotland's ambition be a global leader in developing innovative products.

"NMIS' new membership programme has already attracted a broad range of impressive firms. This ongoing partnership with industry will enable Scotland to fulfil its true manufacturing potential.
Commenting on the launch of NMIS membership, Katherine Bennett, CEO of the High Value Manufacturing Catapult, said:
The High Value Manufacturing Catapult is committed to putting its centres of expertise and excellence on the global stage and this latest tranche of members shows we are having a positive impact. The HVMC family has the capabilities needed to lead industrial growth and clean up the planet. Collaboration with international organisations is an important enabler and I congratulate the NMIS team for these positive developments.
Find out more about NMIS Membership here.