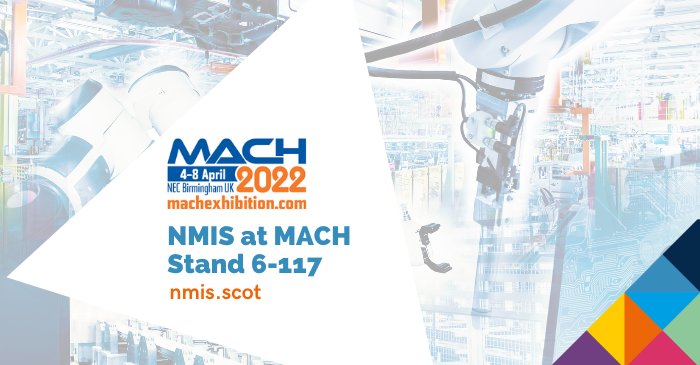 As the much-anticipated MACH 2022 gears up to return after four years, The National Manufacturing Institute Scotland (NMIS) is preparing for its debut at the exhibition where it will showcase the benefits of the latest and greatest machining and additive manufacturing techniques and technologies.
MACH 2022, taking place at the NEC in Birmingham between 4-8 April, is one of the biggest gatherings of manufacturers in the UK this year. The exhibition will feature the largest display of new machinery and manufacturing technologies under one roof.
In line with some of the most critical issues facing the manufacturing industry, including the drive to net-zero, Stephen Fitzpatrick, NMIS Machining and Additive team lead is hosting a seminar on day one, where he will explore using advanced manufacturing processes, such as automated disassembly, and directed energy deposition additive manufacturing, for remanufacturing/ refurbishment, and how it can enable materials to stay in circulation for longer, retaining economic value.
Attendees are also invited to the NMIS exhibit to speak with team members from across the NMIS Group, who will be happy to discuss anything from overcoming manufacturing problems to exploring innovative new technologies, membership and how to access funding for R&D projects.
The team from NMIS will also be advising businesses on how they can access free manufacturing support through collaborative research projects such as Machining 4.0 and Additive Manufacturing - Business and Technical Support (AM-BATS).
Machining 4.0 is an Interreg project comprising of 10 partners across Europe aiming to transform small and medium sized businesses by transferring knowledge on innovative technologies, stimulating hands-on experimenting, and supporting their transformation process.
The AM-BATS project is geared towards additive manufacturing and is a research and knowledge transfer project that forms part of the Scottish Government's Advancing Manufacturing Challenge Fund (AMCF). It is providing Scottish-based SMEs, micro-companies, sole-traders, and start-ups with free guidance on implementing and improving additive manufacturing capabilities.
NMIS, which is one of seven High Value Manufacturing (HVM) Catapult centres in the UK and the only one in Scotland, will be exhibiting side by side with colleagues from the other Catapult centres, showcasing the full offering of HVM Catapult support to manufacturers across the UK and beyond while Katherine Bennett, HVM Catapult CEO, is keynote speaker on day one of the event.
Stephen Fitzpatrick Additive Manufacturing, Machining and ReMake team lead at the National Manufacturing Institute Scotland, said:
Value retention processes refer to processes such as remanufacturing, refurbishment and direct reuse, which seek to retain value within the economic system. Value retention is going to be a core focus for businesses as we look towards net- zero goals and cost cutting in line with inflation, meaning the return of the MACH exhibition in 2022 comes at a key time for the manufacturing industry.

"We are looking forward to connecting with businesses from across the UK and uncovering the challenges they face, working together to develop innovative solutions that will allow them to keep products and components in use longer - retaining their value, while reducing waste and costs.
Find out more about the event and add the NMIS seminar to your show planner here.