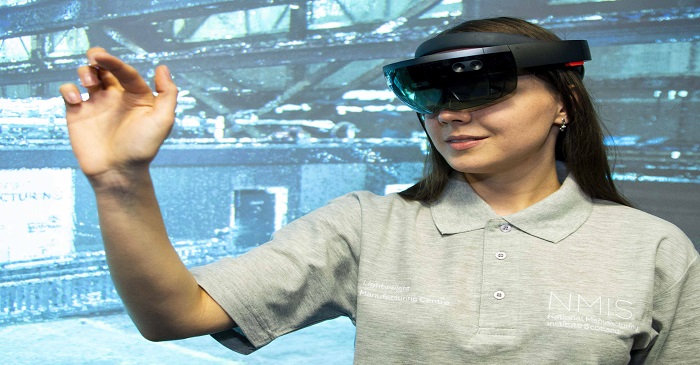 The National Manufacturing Institute Scotland (NMIS) today announced that it will be offering 30 recent STEM graduates from across Scotland, the chance to work with its engineers and researchers as part of a new scheme aimed at helping those who are struggling to find work due to the economic impact of the pandemic secure employment.
The scheme, funded by the Scottish Government's £25 million National Transition Training Fund (NTTF) and developed by the NMIS Manufacturing Skills Academy, will provide those taking part with on the job training and the opportunity to build in-demand skills relevant to the worlds of digital and advanced manufacturing and engineering over a six-month period.
To bolster the programme, NMIS is also collaborating with small and medium sized manufacturing businesses across Scotland, giving some of the graduates the opportunity to work and learn with potential employers.
The NMIS Manufacturing Skills Academy has been awarded £1.45 million from the NTTF and is developing a series of virtual training opportunities to run alongside the graduate scheme. The training will focus on the in-demand skills sought by employers in growth areas of the economy such as digital and net-zero.
Speaking about the training and graduate scheme, John Reid, Chief Executive Officer at the National Manufacturing Institute Scotland, said:
The National Manufacturing Institute Scotland is about the future of manufacturing and skilled-people are vital to us transforming the productivity and competitiveness of the companies within the manufacturing and engineering community in Scotland and beyond.

Through the graduate training scheme and working with colleagues in industry, the University of Strathclyde and other academic institutions, our Manufacturing Skills Academy is set to provide those who are dealing with or facing redundancy, or who are struggling to gain employment following graduation, in the hardest hit manufacturing industries, such as aviation and oil and gas, with meaningful training, which will help bolster CVs and hopefully lead to employment opportunities in growth areas of the economy.
Professor Sir Jim McDonald, Principal & Vice-Chancellor of the University of Strathclyde, which operates NMIS, said:
Strathclyde prides itself on producing graduates with the skills, knowledge and experience that employers are looking for.

This new training scheme will help to give recent graduates from across Scotland the opportunity to apply their knowledge, gain valuable experience and fulfil their potential in the context of business need for Industry 4.0 skills.

It is an excellent example of how NMIS is helping to strengthen the engineering and manufacturing sector in Scotland and across the UK and comes at a time when skilled individuals will be especially required to help support Scotland's economic recovery from Covid-19.
The work of the NMIS Manufacturing Skills Academy through the NTTF forms part of the Scottish Government's manufacturing recovery plan.
Economy Secretary Fiona Hyslop said:
It's great to see initiatives like the NMIS Manufacturing Skills Academy giving graduates who have struggled to find work due to the pandemic the opportunity to benefit from on the job training. This investment from the National Transition Training Fund, which is helping up to 10,000 people across Scotland, will contribute to the recovery of the manufacturing sector and support a pipeline of skilled talent for the future.
The National Transition Training Fund is administered by Skills Development Scotland with careers advisers from SDS and work coaches from the Department for Work and Pensions (DWP) providing advice and support.
Billy Scott, Engineering Sector Manager at Skills Development Scotland, said:
How manufacturing businesses and the wider economy are best placed post-Covid and ready to take advantage of future opportunities from a shift to net zero will rely on having access to a workforce with the right blend of skills.

This new graduate programme is an exciting industry-led and work-based learning initiative – and one which will mean individuals are well prepared to seek future employment and where employers are supported to upskill in key areas such as digital manufacturing and the green economy.
The graduate training scheme is receiving support from industry and potential employers.
Michael Forbes, General Manager at Renfrew-based, Renewable Parts said:
In line with Scotland's transition to become a net-zero emissions economy by 2045, we have ambitious growth plans for Renewable Parts and we recognise the need to have more skilled individuals on our team.

We are delighted to support local unemployed graduates into work at this challenging time and look forward to working with the National Manufacturing Institute Scotland as part of the Scottish Government's endeavours to combat the rise in unemployment caused by the pandemic through the National Transition Training Fund and manufacturing recovery plan.
Bob Buskie, Chief Executive of Port of Cromarty Firth, speaking on behalf of Opportunity Cromarty Firth, said:
We are thrilled that NMIS and the NTTF scheme has given Opportunity Cromarty Firth a graduate to work at our Power House, a centre of excellence aimed at cementing Scotland's place as a world leader in renewable energy technologies. This graduate will play a central role in helping us realise our renewables ambitions over the next decade – which includes green hydrogen facilities and floating offshore wind technology advances among our pipeline of projects – and for which we require large numbers of workers with STEM capabilities to deliver.
For further information on the programme and to apply for the graduate scheme visit www.nmis.scot