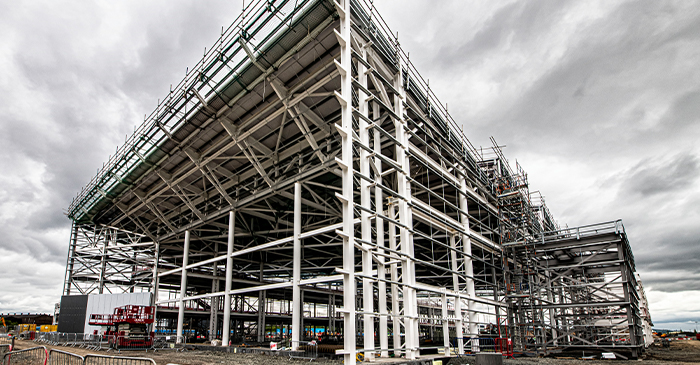 Construction at the National Manufacturing Institute Scotland facility at the heart of the Advanced Manufacturing Innovation District Scotland in Renfrewshire is continuing at a rapid pace with the structural steel nearly complete, distinctive heather coloured roof in place and attention turning to the timber framed collaboration hub.
An average 60 contractors with the main contractor Morrison Construction are on site each day, many of them busy finalising the steel frame for the digital factory and skills academy, which sit on top of 767 loads of concrete and 2593 structural piles reaching 21 meters down deep into the earth.
Work is also nearly complete on the heather coloured roof, comprising of nine roof slopes, each with impressive north facing windows.
Next week will see the first upper floor slab concrete pour in the skills academy, internal drainage is getting started, and work is continuing on the service trench running below the digital factory to provide it with essential power and data.
One of the next major milestones in the build will see a key element of the carbon neutral NMIS HQ come to life – erection of the structural timber frame for the collaboration hub, which will feature a unique lattice design and sit next to the steel framed digital factory and skills academy.
Sarah Jardine, NMIS Chief Operating Officer, said:
We are continuing to be impressed by rate at which our new HQ is coming to life and can now see it clearly from across the River Cart at our Lightweight Manufacturing Centre in Renfrew. This is a space that is going to help us continue to generate real innovation and build skills within Scotland's manufacturing community and beyond.
The new NMIS facility will comprise of a digital factory, skills academy and collaboration hub and will help support manufacturing and engineering firms of all sizes and from all sectors across the country, and internationally, to innovate and grow their businesses.
NMIS is a group of industry-led manufacturing and engineering research and development facilities operated by the University of Strathclyde and supported by the Scottish Government, Scottish Enterprise, Highlands and Islands Enterprise, High Value Manufacturing Catapult, Skills Development Scotland, Scottish Funding Council and Renfrewshire Council.