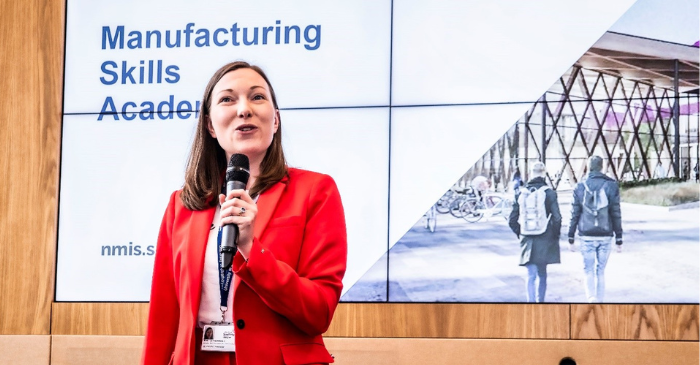 After graduating with a degree in Chemical Engineering in 2015, Jennifer MacDonald spent over half a decade working offshore in the oil and gas industry, where she was often the only woman onsite.
Now, as NMIS Equality, Diversity, and Inclusion Project Manager she works to champion the benefits of a diverse workforce and engage the next generation in the opportunities available to them within manufacturing.
On October 13, Jennifer will be participating in the "Women in Manufacturing: Bridging the Manufacturing Diversity Gap" at the Scotland Manufacturing and Supply Chain exhibition and conference.
Why is it important for manufacturing businesses to embrace diversity and inclusion?
You just have to turn on the news to hear experts talking about the need to be more efficient and careful with resources. Given the world we live in, industries will have to be more agile in how they work and run their operations.
With a broader range of perspectives, businesses tend to be more agile and can look at problems with innovative solutions.
While we are getting better, there's still a long way to go. Inclusivity is about making sure people feel valued and heard in the workplace and this is an area NMIS sees as a priority to grow the sector within Scotland.
What are the main hurdles preventing manufacturers from cultivating a diverse workforce?
Unfortunately, many women and others with protected characteristics don't consider engineering and manufacturing a career path. Often, they simply can't see themselves in the role due to a lack of current representation. That's a central element of the work we're doing currently - we want to engage with communities, schools and employers to provide that visibility.
Industry 4.0, net-zero…there are lots of big changes happening across manufacturing. How does diversity and inclusion fit into all of this?
We are designing a new Scotland where industry 4.0 is widespread across the board – it's for everybody. This means we want everyone to be involved, whether you're a small local manufacturer or a global name. If we want these goals to come to fruition, we need everyone to get behind the cause, not just those of a particular background or people from a specific location.
In an ideal world, where would you like the manufacturing industry to be - from a diversity and inclusion perspective – when you retire?
My ambition is that we no longer require awareness days to promote women in engineering; it is simply a given.
I moved into this role because I didn't want to see the status quo as I moved up in my career. I wanted to see the industry progress beyond seeing diversity and inclusion as more than just a tick box.
I look forward to seeing the next generation of engineers flourishing, and I would like the industry to reflect and celebrate the extraordinary diversity of our country as a whole.
Jennifer is speaking at the Scotland Manufacturing and Supply Chain Conference and Exhibition on 13 October. You can sign up here.